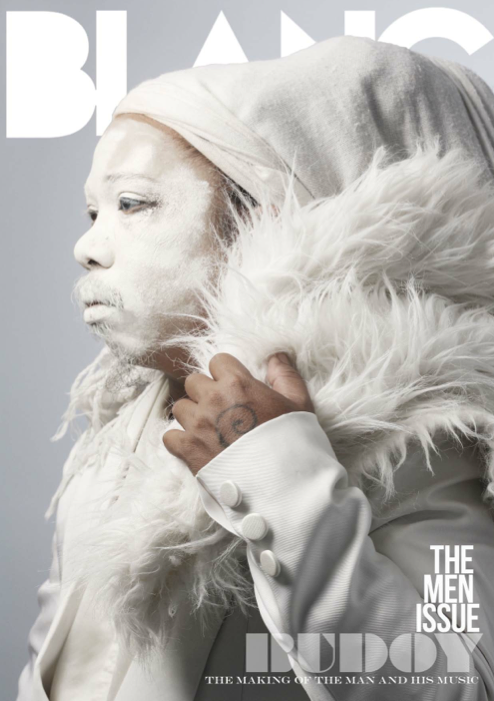 If you're from Cebu, for sure you've heard of Blanc. It's an online magazine, basically a collision of fashion, arts and culture, from another perspective. Anyway, after a three-month long sabbatical from writing, I started again and contributed to the magazine by writing articles for them, one of which featuring Irie Gastropubliko. These are just some screenshots, the last two are of the articles I wrote. Just click the link below for the full issue!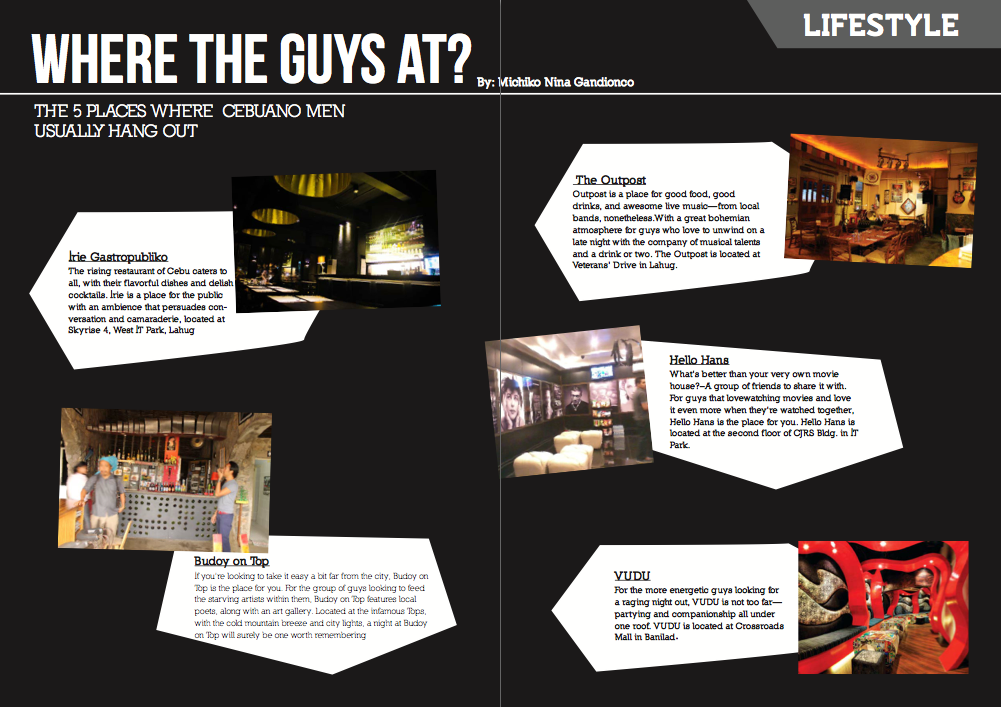 Here's the full Irie feature article I wrote :)
In the growing metropolis that is Cebu City, Irie Gastropubliko, the first Gastropub in Cebu and a contemporary oasis serves to fill your days, your nights, your stomach (and maybe even your liver). Whether you're in for a quick tasty meal or a long chill drinking session, Irie does not disappoint.
The word Irie itself means "positive emotions and peaceful vibrations, to be at total peace with your current state of being." A Gastropub, serves both food and drinks but with a different, innovative angle.
If you're from a more "advanced" age group, you'll remember Irie back in 2004 to be an Asian fusion lounge along Talamban. Because the area itself was already far for most people, soon enough, development started to rampage along the area, traffic became inevitable, parking spots got harder to find, and after two years, the original Irie closed down. Around the same time, Jan Rodriguez (executive chef of Irie) opened up the well loved, Ila Puti—a soulful restaurant which then took over the original Asian fusion food concept for Irie. Since then, Jan has been hoping to revive Irie, planning out every little detail of his business venture, right down to the location—he knew what he wanted, how to achieve it, where to establish it, and thus we have Irie Gastropubliko today.
Have you ever noticed that Irie doesn't have a sign up yet? Jan says, "I intentionally planned that. I want it to be a place to be discovered," but soon enough of course, a sign will be up soon. For Jan, perfection is important, not just with the food but the entire experience of being in Irie.
Irie is designed to be a simple, comfortable yet stylish Gastropub, with nearly matte black everything, gold and silver accents, and a soft warm lighting (to add focus to the food or drinks on the table). The walls of windows in Irie open up late at night, to mesh the interior with the exterior to truly make it a place for the public. Other than the architectural design of the pub, what also adds to the blissful atmosphere is the music, courtesy of the Onozawa brothers (Ken, Kaz and Koh) and their impeccable tastes in music. Expect a lot of Indie, variations of House, and the occasional Dubstep while in Irie.
While the design gives the impression of it being a pricey place, take note of the size of the dishes, the quality and taste, the quick and delightful service, the comforting ambience, everything else in Irie, add that all up and for sure your wallet wouldn't mind more visits.
As a pub, of course, Beer is assured. Though aside from that, their cocktails and mixed drinks are signature drinks only available at Irie. All mixed drinks are strong, made with fresh juices and top-shelf liquor (and for future reference, Wednesdays are Ladies Night!) From afar, Irie simply looks like a drinking place, but while they do have a pretty wide drink selection and well-stocked bar, most people go in for the food. The menu in Irie may seem short and simple, but what they may lack in choices, they make up for with flavor. When it comes to food, they do not skimp on ingredients. Every dish on the menu is an Irie recipe, made with only the best and natural selections. The only difficulty customers will find on the menu is which dish to eat first. Food-wise, the main attraction is the filling and flavorful burgers—a 1/3 pound US Sirloin beef patty in between a Brioche bun. Now, why such a fancy bun for a burger? Jan shares with us that "the bun is like a sponge, and it's basically just a vessel to carry the patty" and while other burgers load up on bread, Irie makes sure that you get a full taste of the meat, which is really what makes a burger, a burger. With a "personalize it" option, Irie's burgers will never get dull. Feeling spicy? Add some chili or jalapenos! In the mood for a different kind of cheese? Mozzarella or Gruyere, take your pick. Oh, it's your cheat day? Add some bacon. Not on a diet? Add some bacon. Are you human? Add some more bacon. Aside from the burger, the chicken wings are also a big hit and come in three different flavors you can choose from: Buffalo, Jamaican Jerk, and House Barbecue (the chef's personal favorite!) The fall-off-the-bone, baked then grilled Rack of Ribs only cost—wait for it—350 pesos. Irie's Truffle pasta is made with organic and different kinds of mushrooms, and of course, truffles. Vegetarian? Dieter? Irie's got you covered. The French Onion soup and Tomato soup are homemade, all natural, without beef or chicken stock. As for dieters, have no fear, for salads are here! With your choice between the classic Caesar salad and the more upscale Smoked Salmon Salad, at the best price with an even better quality. Everything in Irie is homemade, and pretty soon, even the ketchup. And to keep things even more interesting, Irie will be having monthly specials, so that's definitely something to look forward to.
Irie is many things: it's the hangout place where you and your friends meet so you can catch up on old times, it's the restaurant you go to when you're in need of a homemade food fix, it's the pub you and your coworkers like to relax at after a shift, for whatever reason, Irie is the place to be and is definitely here to stay.
My writing's a little rusty, but hey I've got to start somewhere. On a different note, after months of debating with myself whether to continue blogging or not or whatever, I decided to continue this blog! *Obviously* So I'll be posting again, hopefully more often than I used to. Also, I've got new playlists up on my 8tracks so be sure to check those out too ;)