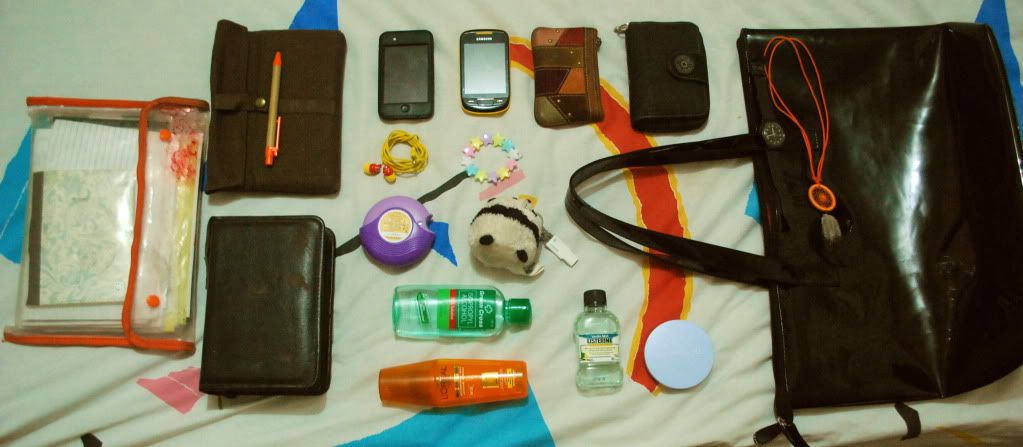 It's tuesday and class is in two hours. I've got the most unsettling pain in my chest and my ankle still hurts a bit (I had an accident and grazed probably 60% of skin off my ankle) but I can walk properly now, so yehey to that I guess? >.< Okay, so basically for this post I thought I'd show you what's in my school bag. I normally don't use this bag, but since last night my mind's been filled with ideas on how to accessorize it a bit because I just think it's too plain. I'll figure how to later and post it up soon ;)
So what's in my bag today? Oh, not much, really. Just a bunch of crap.
Plastic Envelope with orange buttons and orange lining
(filled with course notes and reading assignments)
Starbucks 2012 Planner with paper pen
(the planner was a birthday gift from my best friend; the pen's body is made of 100% recycled paper *separate gift)
Bible with Leather Case
(for compulsory Religious Education Class; the case is really worn out now, it's obviously old)
1st generation iPod
(because all I really need an iPod for is music)
Stud Earphones
(bought at iCampus, because it was the cheapest one >.< and because the colors remind me of Ironman. Agree or disagree?)
Seretide Inhaler
(I'm asthmatic. Surprise!)
Green Cross Alcohol
(with all the commuting I do, I've gone a little germaphobic)
L'Oreal Anti-Frizz Serum
(this is like a superhero for me, especially since the Philippines is insanely humid)


Samsung Corby II
(network plan/post-paid with free phone. Filipinos can never say no to a bargain; this phone is so hard to text with though)
Pastel Star Bracelet
(this was a party favor on my 18th birthday and since then I just love having it on)
Sony Thumb Drive on a Keychain
(my sister got me this keychain from Ocean Park, Singapore; I tied my thumb drive on it because it's too small, I might lose it)


Fossil Coin Purse
Listerine Mouthwash
(Vanilla Mint!)


Kipling Wallet
(I've had this wallet since high school. I should probably get a new one. One more age-appropriate perhaps?)
Maybelline Compact
It feels like I've got so much stuff in my bag! I'm used to the weight of how much I carry, but today's going to be burden because fo that Bible, no doubt. I hope today goes well, I've got a report to give on Chinese Philosophy and I'm sooooo nervious! Wish me luck!
Later! ;)